Breathtaking Michigan Hiking Trails: 4 Most Scenic Spots to Hike This Year! 
Breathtaking Michigan Hiking Trails: 4 Most Scenic Spots to Hike This Year
Hey Hikers! (YEAH, YOU!) It's time to get out of the house to explore and commune with nature!

With such a wide variety of both hiking trails and scenery, Michigan offers outdoor enthusiasts an excellent opportunity to relax and enjoy nature. 
From the forests, shores, islands and lakes, there are about 12,500 miles to explore, so gather your equipment and start your journey!
Choosing which trail to conquer first can be a bit overwhelming because every one of them has their own unique charm. But here are some of the most beautiful ones that you just have to see for yourself! 
Once you've explored these, here are several more Hiking Trails in Michigan!


"Of all the paths you take in life, make sure a few of them are dirt" ~John Muir

AuSable River Trail
Hartwick Pines State Park, 3612 State Park Dr, Grayling, MI
Most of this picturesque trail is beginner-friendly, but there are some challenging parts, too. If you love to test your skills, maybe this is the right trail for you! 
The best part of the trail is the hike alongside the Au Sable River, which will leave you breathless. The view of the forest on the other side of the river gives a fairy tale vibe. Plus, the boardwalk is a highlight!  Great spot to see birds and other critters.
The trail is 3.2 miles long, and although a lot of it can be hiked with basic, lightweight equipment, it is recommended that you wear a pair of hiking boots because of a few wet spots that the trails go through. 
Tahquamenon Falls Route: One of Our Favorite Michigan Hiking Trails
Tahquamenon Falls State Park, Luce County, Michigan (Upper Peninsula)

We are absolutely in love with hiking the trails at Tahquamenon Falls.  It's so adventurey, so...communing with nature. That's why it is one of our favorite Michigan hiking trails.
This intermediate trail is 5.8 miles long, but it is more than worth it. If the view of massive waterfalls enchants you, Tahquamenon State Park is a place you must visit. 
The main attraction is the Tahquamenon River and its beautiful waterfalls, which can be viewed either from the platform (if you love a good challenge) or from the bottom of the falls, where you can appreciate their magnificent beauty. 
Hiking is not the only thing you can do at the park; there are also other activities available to visitors, like camping, backpacking, canoeing, and fishing. Fun for everyone!
If you are looking for that perfect Instagrammable moment, visiting Tahquamenon Falls in the fall will give you the perfect landscape photo as the trees are bursting with color.

FYI: If you do not have the Michigan Recreational Passport, there is a small fee you have to pay upon entering the park. 

Stay Hydrated as You Hike!
It's super important to stay hydrated as you hike.  Be sure to have plenty of water and a camelbak is a great way to keep your hands free!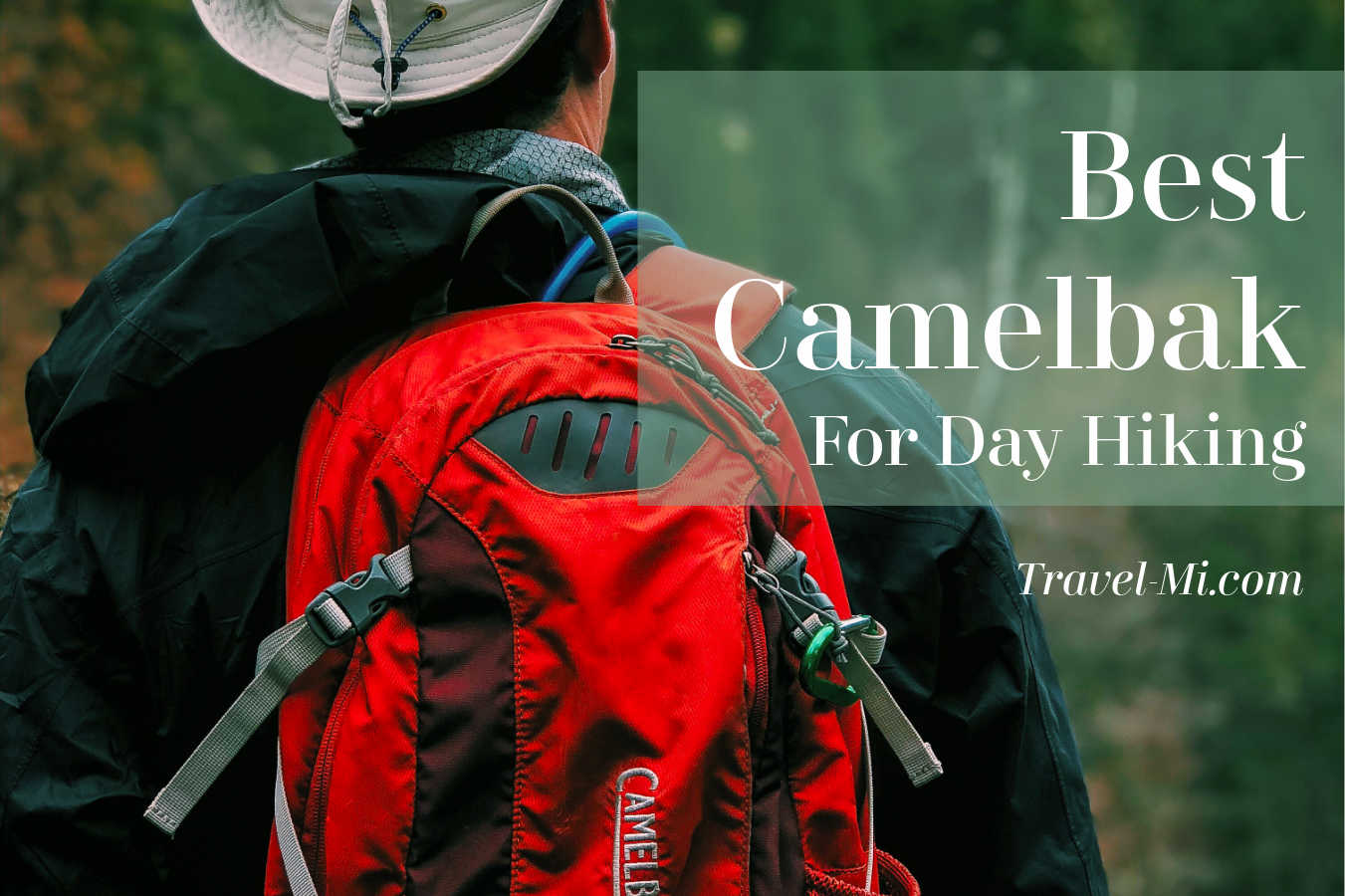 If you enjoy hiking, my blogging friend Jamie has a fun read about Nature, Hiking and Homemade Ice Cream in Granville, Massachusetts
Potawatomi Trail
Pinckney Recreation Area, 8555 Silver Hill Road, Pinckney, MI
Pinckney Recreation Area is a fantastic weekend destination with many picturesque Michigan hiking trails.
With around 40 miles of hiking trails, lakes, and rivers, there are many other activities that you can do at Pinckney Recreation Area. And the best thing is that it is within driving distance from Detroit. 
The beauty of the Pinckney Recreation Area is its many breathtaking streams, even during the winter. 
If you are visiting during the warmer months, do not forget to bring bug spray.
The trail offers a number of activity options and is best used from April until November. Dogs are also able to use this trail but must be kept on a leash.

Potawatomi trail is kept in perfect condition and the pathway is pretty hard to miss. One thing that all hikers appreciate is the availability of two bathrooms along the trail.
Keep in mind that this trail is probably not the best choice if you are entirely new to hiking. It does require a lot of effort to complete this 17.4 mile round-trip. If you think you are ready for this trail, we suggest not to rush through it and take your time to enjoy the nature around you, because it is stunning.
Sleeping Bear Dunes Trail
Do not be fooled by the length of this trail (#7 on the map above). Although it is only 3.5 miles long, the sandy nature of the trail makes it more challenging. It may take up to three hours to finish it.

Sleeping Bear Dunes National Lakeshore is probably the perfect place if you want to see the true beauty of Lake Michigan. There are several Michigan hiking trails at Sleeping Bear Dunes.
Although hiking barefoot is something all hikers would like to experience, bringing shoes or sandals will prove to be a smart decision as the sand can get very hot and dune grass is very sharp.  Also, do not forget to bring a lot of sunscreen and water!
Article by Nemanja Marinkoff
Pin This Breathtaking Michigan Hiking Trails Page!
Keep Reading!
Subscribe To Receive Exciting Destinations, Day Trips and Fun Directly to Your Inbox!
Sign Up to Our Newsletter to Get the 5 Free Must Have Apps to Travel in Michigan Like a Boss!
Follow Us on Instagram