16 Michigan Easter Events, Egg Hunts and Brunches for Families and Adults
16 Michigan Easter Events, Egg Hunts and Brunches for Families and Kids. Plus adults only Easter Egg Hunts! 
Easter brings mad dashes during Easter egg hunts, delicious brunches, sweet treats and wondrous family adventures!  Plan your Easter while traveling Michigan!
Easter Egg Hunts in Michigan!

We can see great Michigan Easter Egg hunts in your future!
Detroit

Easter Eggstravaganza- Sat, Apr 20, 2019, 1 PM – Sun, Apr 21, 12 AM, Beacon Park, 1901 Grand River Ave, Detroit, MI. Hop on over to Beacon Park in Detroit! FREE egg hunt, make and take crafts, Peep s'mores and a live DJ!
Easter Egg Hunt-Sat, Apr 13, 2019, 2 – 5 PM, Gospel Life Church, 1042 East 12 Mile Road, Madison Heights, MI. Basket, cookies, and crafts! Please bring a bag to collect the eggs.
Ann Arbor
Easter Egg Hunt- April 20, 2019, 10:00 am-12:00 pm, Free! Vineyard Church of Ann Arbor, 2275 Platt Rd., Ann Arbor. Fun includes an egg hunt, inflatables, pony rides, face-painting and a petting zoo. Everyone is welcome!
Easter Egg-Stravaganza-Sat, April 13, 2019, 9:00 AM – 12:00 PM, by Westland Area Jayceese. Exciting age based egg hunts in the morning so bring your own bag or basket! The Easter Bunny will visit-bring your camera! Crafts for the kids, a light breakfast for everyone and lively music during a cake walk. Wayne Ford Civic League, 1661 North Wayne Road, Westland, MI There is a fee.
Grand Rapids
Easter Egg Hunt, Sat, Apr 20, 2019, 12-2 p.m, Robinette's Apple Haus & Winery, 3142 4 Mile Rd NE, Grand Rapids, MI. Easter egg hunt for the kids and adults can pick an egg for discounts, free donuts and more! The Easter Bunny will visit from 12-3.
Easter Egg Hunt on the Green, Sat, Apr 13, 10:30 AM Midtown Green, 753 Fountain St NE, Grand Rapids, MI, All are welcome! Donuts and hot cocoa will be served by special guests!
Holland
Easter Egg Hunt-April 20, 2019, 10 a.m. -12 pm. Annual Easter Egg hunt will be held at Howard B Dunton Park, 290 Howard ave, Holland, MI. Gates open at 10:00 am and the hunt will begin at 11:00 am. Lots of candy, toys, gift certificates, face painting, Easter Bunny
Bay City and Pinconning 

Easter Egg Hunt and School Open House- April 1

3, 2019, 

St. Paul Lutheran 10:30 AM – 12 PM, 6094 Westside Saginaw Rd, Bay City, MI 
Easter Egg Hunt- April 13, 2019, 10 AM, Doc Letchfield Park in 
Pinconning, FREE!
Marquette
Marquette City-Wide Easter Egg Hunt, Mon, Apr 15, 6 AM – Sat, Apr 20, 2019.  April 20th 11:00 AM-Children's Egg Hunt at the Presque Isle Band Shell, Over 1000 toy filled eggs for the kids and  11:30 AM -Prize giveaway for the City-Wide Egg Hunt. 

Join the fun for  city-wide egg hunt! The hunt starts April 15th and will go through April 20th! Search for one of a dozen eggs that will be hidden around the city with great prizes inside! Look for the Golden Egg which will reveal the Grand Prize! Free!
Did Someone Say Chocolate?
Photo Courtesy of Grimaldi
What else says Michigan Easter like delicious, melty chocolate?
An (Easter) Island(s) Chocolate Adventure-April 17, 2019, 7:00 PM – 9:00 PM at Mongers' Provisions, 4240 Cass Avenue #111, Detroit, MI.  Enjoy some pre-Easter chocolates from a variety of islands including Fiji, Madagascar, Hispaniola, Hawaii. Take a bar home with you!  FEE.
Chocolates by Grimaldi,

219 N 7th Street

, Grand Haven, MI 49417in Grand Haven offers chocolate covered cookies, personalized artisan eggs and hand-poured bunnies! Beautifully packaged in an Easter-themed box, you will be the star of Easter! 
.

Outstanding Michigan Easter Buffets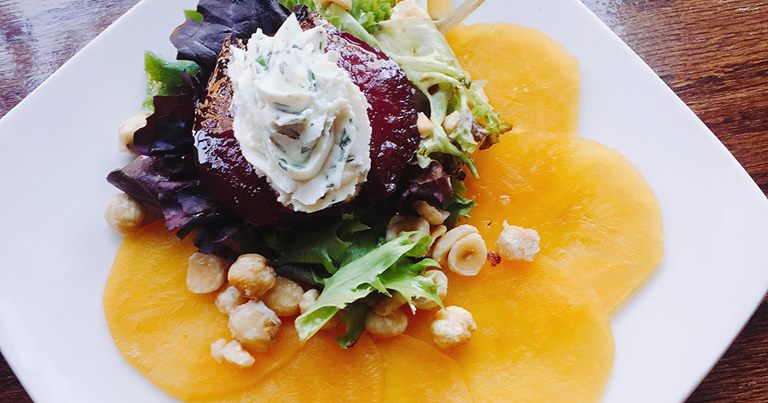 Michigan Easter Photo Courtesy of Divini
Shanty Creek Resorts, Bellaire, MI, April 21, 2019 11-3 p.m. Celebrate at their Easter brunch with a carving station, salad station, great assortment of entrees and breakfast items. Make sure to save room for the large assortment of desserts!  Reservations recommended.
W.K. Kellogg Manor House, Sunday, April 21, 2019, 11:00 am - 2:00 pm
3700 E. Gull Lake Drive, Hickory Corners, MI.  The delicious menu features  made-to-order omelets, Michigan cherry almond granola, lemon poppy seed buttermilk pancakes, a fresh spring vegetable salad, delicious desserts and more! Reservations are required, so act quickly.
Divini-15 Ionia Ave SW, Grand Rapids, Michigan, 11-2 p.m.

 

You will be en awe of their prix fixe, three-course menu features tasty options like golden beet salads, beef tenderloin and creme brulee!  Reservations.
We hope we were able to give you lots of ideas to celebrate your Michigan Easter!
Hey, Adults Love Easter Egg Hunts Too!
Michigan Easter Annual Adult Egg Hunt & Garden Opening. Photo Courtesy of Fenton Winery & Brewery
Michigan Easter Egg Hunts for Adults Only!
Sandhill Crane Vineyard Egg Hunt! (Adults Only), 3rd Annual Adult Egg Hunt & Garden Opening, Saturday, April 20, 2019, 11:00 am - 5:00 pm 4724 Walz Rd, Jackson, MI.  
Hunt through the vineyard for eggs filled with the chance to win gift certificates, wine tastings, bottle sale-coupons, among other fun things. FREE!
Annual Adult Egg Hunt & Garden Opening-Sat Apr 20 2019 at 11:00 am, Fenton Winery & Brewery, 1370 N Long Lake Rd, Fenton, MI, 21+ only.
Official opening of the beer garden! Enjoy time outside with beer, wine & great food from the taproom. Outdoor games incl. giant Jenga and Cornhole AND an Adult Egg Hunt to benefit a life-changing special needs camp!
Subscribe To Receive Exciting Destinations, Day Trips and Fun Directly to Your Inbox!
Sign Up to Our Newsletter to Get the 5 Free Must Have Apps to Travel in Michigan Like a Boss!
Follow Us on Instagram 
You May Also Like