Mackinaw City Blue Ice
Mackinaw City Blue Ice-It's Not Just Any 'Ole Ice!
Thousands flocked to Mackinaw City to view the simply breath-taking rare blue ice phenomenon!
When I first read on social media about the blue ice appearing in Mackinaw City, Michigan near the Mackinac Bridge, I about lost my mind.  I instantly texted Chris (in a panic) and declared, "WE MUST GO NOW!"  Never mind that he was at work...
After talking me off the ledge with a voice of reason, we settled on leaving Saturday morning.  So I packed snacks, our photography and drone equipment and warm clothes in preparation for our trip. 
Almost too excited to sleep, I was staring at Chris at 7:30 a.m. the next morning while he was still asleep saying, "are you awake yet?"  (Good thing he loves me.)   
What's the Science Behind Blue Ice?
Why is the ice so blue?  Well, the Apostle Islands National Lakeshore in Lake Superior experiences blue ice near their famous winter ice caves.  They explained the phenomenon by stating, "Ice only appears blue when it is sufficiently consolidated so that air bubbles do not interfere with the passage of light. Without the scattering effect of bubbles, light can penetrate ice undisturbed. In ice, the absorption of light at the red end of the spectrum is six times greater than at the blue end. Six feet into the ice, most of the light in the red spectrum can't be seen. A lack of reflected red wavelengths produces the color blue in the human eye."  
Why Is Everyone So Excited?
Blue ice at Mackinaw City is a very rare occurrence!  It has been 7 years since the beautiful blue ice last made its appearance!  Chris and I have never seen blue ice  so we were pretty excited!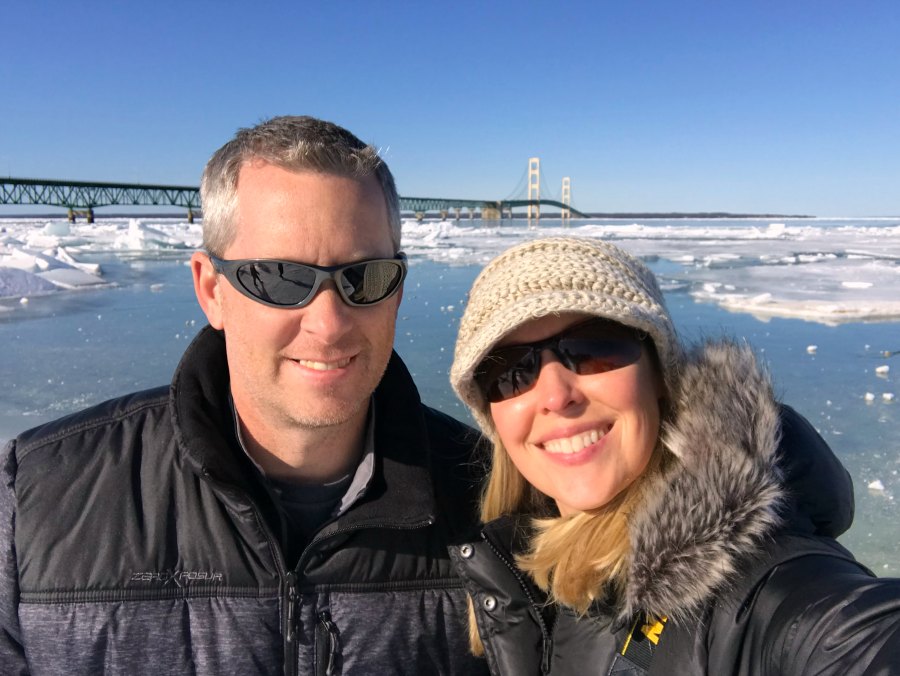 We are LOVING the Blue Ice!!
Mackinaw City's Blue Ice Really Brought the Crowds!
Mackinaw City was packed with families excited to see the blue ice, photographers hoping to capture magical shots and people just wanting to get outside to enjoy the sunny day!!  Spirits were high and everyone was having a wonderful time.
Even though it was cold, the bright warm sun warmed our hands as we took tons of photos, drone videos and walked along the shoreline. I was shocked to see so many people wander far out onto the ice especially since temperatures were rising and I noticed many hollow pockets deep under the snow and ice.  
The Ice Had Such Interesting Structure!
The ice was very sharp, almost like razor blades.  I had to wear my gloves as I crawled across the sharp boulders to obtain my photos.  I was very careful to place my hands away from the edges of the ice as it sheared off in small piles with minimal pressure.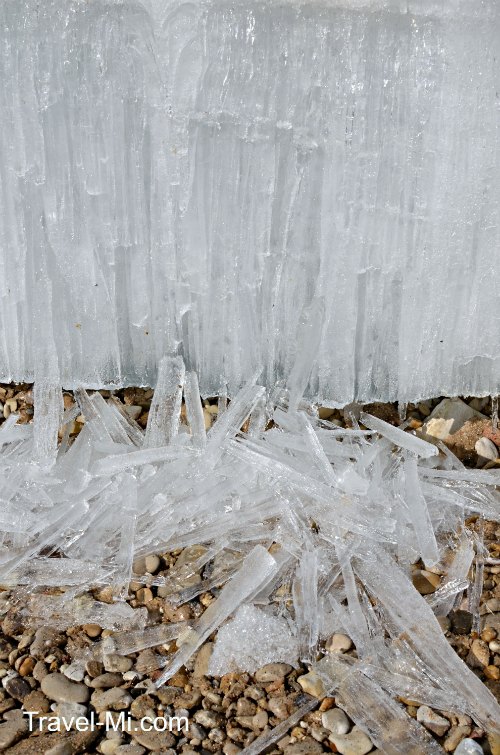 When Will It Happen Again?
Who knows!  We will just have to wait for the perfect conditions so we can once again enjoy the beauty of nature.  I can't wait! 
More Awesome Photos!
More You May Love...
Subscribe To Receive Exciting Destinations, Day Trips and Fun Directly to Your Inbox!
Sign Up to Our Newsletter to Get the 5 Free Must Have Apps to Travel in Michigan Like a Boss!