6 Best Beaches in Michigan (Without A Single Shark!)
6 Best Beaches in Michigan | by Sherry Trautman | Traveling Michigan
Hey Beach Goers!  Visit the powdery sandy beaches along Michigan's lake shore and admire the crystal clear waters along the beach.
Did you know Michigan has 11,000 inland lakes and 3,300 miles of Great Lakes shoreline?
And Not a Single Shark. Oh, and It's Unsalted.
Let me just say, all of us Michiganders can hardly wait for glorious beach weather days. Where the breeze is softly blowing our hair, sea gulls are dipping and diving, and the sand is so hot we gleefully race to the water's edge to cool our feet.
During those gloriously long summer days, it's impossible to pull us away from the cool waves washing over our knees, the warm sun kissing our skin and the very last sandcastle we need to build.
St. Joseph Has a Spectacular Beach AND A Water Cannon!
"It's a smile, it's a kiss, it's a sip of wine … it's summertime!" – Kenny Chesney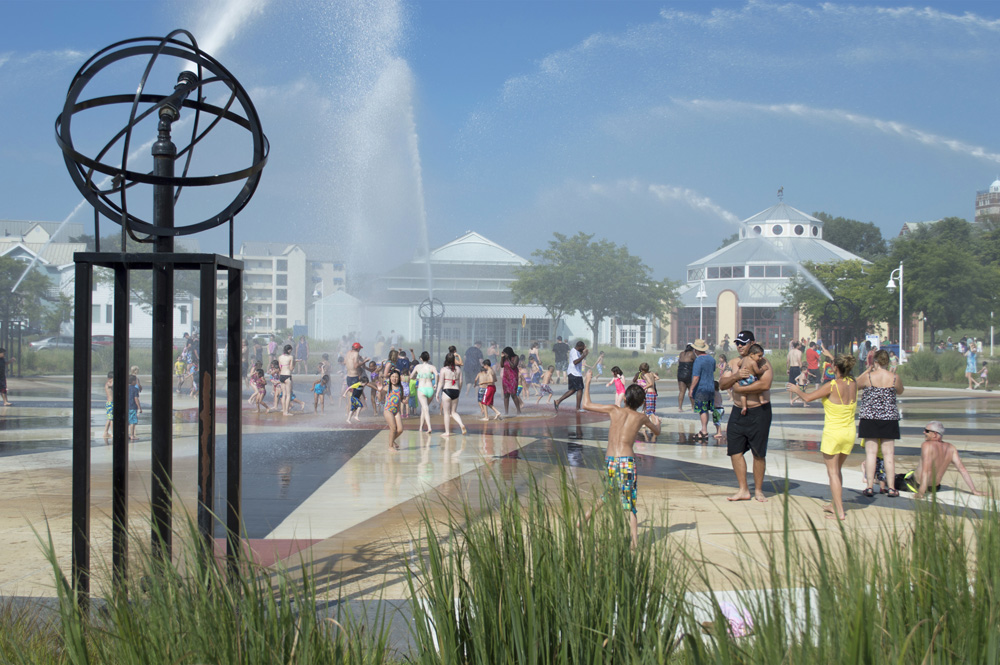 St. Joseph, Best Beaches in Michigan
Saint Joseph's Silver Beach is my personal favorite as it is my hometown (sorry, I'm a tad bit bias!). 
The water cannon, Silver Beach carousel, pier, lighthouse and bluff are all magnificent places to in Saint Joseph, Michigan explore during the warm summer months. Plus there's a great play area for kids.
But get there early if you want to park in the lot near the beach, as it fills up quickly on warm summer days.
Frankfort's Soft Sandy Beach is Just Begging For Your Toes!
We love visiting Frankfort's beach as the sand is soft, the waves are refreshing and well, you can wander the fantastic town after you've had enough sun.  
June, July and August are spectacular beach-going months in Michigan.  Plus, most Michigan beach towns have several festivals, farmers markets and events during the summer months so you'll never be bored! 

Camp Right Next to the Beach at Grand Haven State Park!
Grand Haven Beach
If you love camping, visit Grand Haven State Park for awesome views of the beach and lighthouse.  
You'll have hours of fun jumping the waves and digging your toes in the warm sand!
Charlevoix Beach is Waiting for Your Sandcastle!
Charlevoix Michigan's beach is a refreshing spot to cool off during the hot summer months in Michigan.
Tawas State Park's Beach Is a Prime Spot For Spectacular Kayaking, Hiking and Sunbathing 
East Tawas is definitely worthy to be on our Best Beaches In Michigan list. If you like to avoid vast amount of crowds, the beach at Tawas State Park is your perfect summer oasis. 
When you need a break from the sand, the East Tawas beach offers fun opportunities to kayak along the gorgeous shoreline.  Plus, when you get hungry, there's lots of food, snack and drink opportunities nearby so you don't have to leave the beach!
Silver Lake: Home to Dune Rides and Soft Sandy Beaches!
Silver Lake beach is perfect for fun days in the sand!  There's a playground for kids and ample restrooms.  Bring brats or burgers to grill.  We like this beach as it's close to the campground and there's lots of shade trees.
Pin Best Beaches In Michigan!
Subscribe To Receive Exciting Destinations, Day Trips and Fun Directly to Your Inbox!
Sign Up to Our Newsletter to Get the 5 Free Must Have Apps to Travel in Michigan Like a Boss!
Follow Us on Instagram 
Keep Reading!