Super Fun Things to Do in Charlevoix Michigan
There are so many fun things to do in Charlevoix Michigan! We had a blast in the beautiful coastal town this early fall.
Charlevoix is a family friendly city that boasts great eats, engaging activities and exciting events throughout the year.
On this trip, Charlevoix was our first stop to kick off our west coast Michigan fall color tour.  The leaves were just beginning to change to their vibrant hues of reds, oranges and yellows.  The cool snap of fall was definitely in the air! Our first top was (of course) the World's Largest Cherry pie!  
World's Largest Cherry Pie!  
6549-6717 US-31, Charlevoix, MI 49720

OH MY WORD!! What a fun and famous spot to discover!  It's so easy to find, located on US-31 south of downtown Charlevoix.  How fun to discover the World's Largest Cherry Pie located right in my home state! 
Charlevoix Lighthouse and Beach
2 Grant Street, Charlevoix
The Charlevoix lighthouse is such a wonder to see when the sky is stormy and the light is perfect. Of course it's gorgeous all year but we really lucked out with the stunning beauty on this visit.
The lighthouse was repainted the summer of 2016 by the help of a grant from the State Historic Preservation Office Michigan Lighthouse Assistance Program.  Now it's shiny and pretty!
The Charlevoix beach is a great place to spend the day.  It has a great play area for kids, walking trails and nice restrooms with changing areas.
Earl Young's Mushroom Homes
So...I truly think your trip to Charlevoix would be amiss if you skipped searching for Earl Young's Mushroom Houses.  Also known as gnome homes, these private homes are marvelous to find!  We turned it into a game! 
We have maps and information about these architectural wonders found right in Charlevoix, Michigan!
Downtown Charlevoix
We just love wandering around Downtown Charlevoix.  It is so picturesque with the pretty storefronts, eclectic restaurants and shade trees.  
One of my favorite things to do in Charlevoix is to get a snack and wander around the marina.  The paved walkway is easy to navigate and is quite peaceful.  There is a pretty fountain that has concrete seating and restrooms nearby. 
Sparkling water and beautiful boats always tug at my soul.  
It is also a great vantage point to enjoy the Weathervane Inn, a creation of Earl Young. 
Things to do in Charlevoix for Young Visitors
Be sure to check out the Fountain of Youth, an interactive children's fountain located near the marina.  The fountain features a textured fountain pad for little feet and is approximately 30 feet in diameter. 
But the best part?  It has 23 scream-inducing water nozzles! It is especially pretty in the evenings as the fountain is lit with beautiful multi-hued LED lights. 
Pig Eatin' Ribs
Pig Eatin' Ribs-1418 Bridge Street, Charlevoix, Michigan
After checking out the gnome homes, and exploring the beach and lighthouse, it was time for some serious eats.  Just to clarify, this wasn't a tiny garden salad type of hunger....we wanted some tasty pig!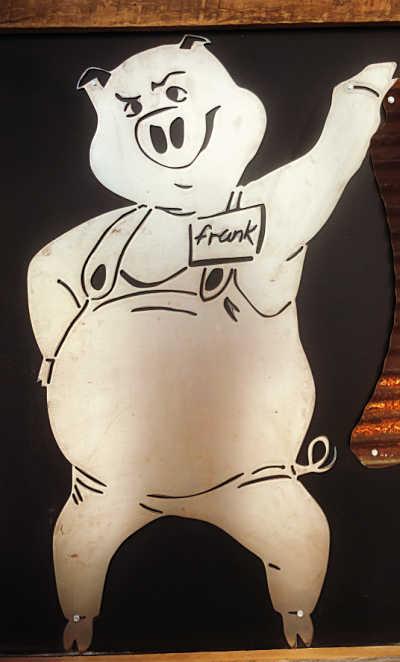 We passed Pig Eatin' Ribs while driving into Charlevoix earlier that morning.  Chris is ALWAYS in the mood for bbq. Usually I try to distract him if I see a bbq restaurant coming up as I like to expand our experiences but this place was an exception. 
We loved the modern design and their from-scratch cooking. I'm a sucker for open kitchens so I was delighted to see them loading the smoker with tasty ribs!  
We shared a platter of tender ribs with macaroni and cheese. We played chef while mixing the different sauces to see what flavor combinations we could conjure up.  I also ordered the tomato cucumber salad that I highly recommend-it was crisp and very flavorful.  
I hope this post inspired you to visit this beautiful Michigan coastal town. We will be adding more fun things to do in Charlevoix as our list grows, so check back soon! 
Cheers! Sherry